TRAUMA

Praise for
The Myth of Normal
"In
The Myth of Normal
, Gabor Maté takes us on an epic journey of discovery about how our emotional well-being and our social connectivity (in short, how we live) are intimately intertwined with health, disease, and addictions. Chronic mental and physical illnesses may not be separate and distinct diseases but intricate, multilayered processes that reflect (mal)adaptations to the cultural context that we live in and the values we live by. This riveting and beautifully written tale has profound implications for all of our lives, including the practice of medicine and mental health."
—Bessel A. van der Kolk, MD, president, Trauma Research Foundation, professor of psychiatry, Boston University School of Medicine, and author of the #1
New York Times
bestseller
The Body Keeps the Score: Brain, Mind, and Body in the Healing of Trauma
"Gabor and Daniel Maté have created a magnificent resource for us all in
The Myth of Normal
, a powerful, in-depth, science-packed, inspiring story–filled opus that helps us see how stress within our culture shapes our well-being in all its facets. By carefully reviewing medical and mental health through a wide lens of inquiry, they challenge simplistic views of disease and disorder to offer instead a wider perspective on human flourishing that has direct implications for how we live individually, at home, and as a larger human family. A thorough and inspiring work of the heart, this book urges us to question our assumptions and think deeply about who we are and how we can live more fully and freely, harnessing the power of the mind to bring healing and wholeness into our shared lives on Earth."
—Daniel J. Siegel, MD, clinical professor, UCLA School of Medicine, executive director, Mindsight Institute, and
New York Times
bestselling author of
IntraConnected: MWe (Me
+
We) as the Integration of Self, Identity, and Belonging
"Wise, sophisticated, rigorous, and creative: an intellectual and compassionate investigation of who we are and who we may become. Essential reading for anyone with a past and a future."
—Tara Westover,
New York Times
bestselling author of
Educated
"Gabor and Daniel Maté have delivered a book in which readers can seek refuge and solace during moments of profound personal and social crisis.
The Myth of Normal
is an essential compass during disorienting times."
—Esther Perel, psychotherapist, author, and host of
Where Should We Begin?
"Gabor Maté articulates bluntly, brilliantly, and passionately what all of us instinctively know but none of us really want to face: The entire social construct of the world we're living in is deeply flawed, with toxicities on every level. Yet though the book makes clear what's so terribly wrong, it also points to how we can make it right. Maté is a guide through the dangerous forest of our minds and our society, not letting us ignore the darkness but ultimately showing us the light.
The Myth of Normal
is exactly what we need."
—Marianne Williamson,
New York Times
bestselling author of
A Return to Love
"
The Myth of Normal
is an astonishing achievement, epic in scope and yet profoundly down- to-earth and practical. I believe it will open the gates to a new time when we come to understand that our emotions, culture, bodies, and spirits are not separate, and wellness can only come about if we treat the whole being. I will read this book again and again."
—V (formerly Eve Ensler), author of
The Vagina Monologues
and
The Apology
"
The Myth of Normal
may forever change the way you view your life experiences and how they can shape your biology. But more important, Gabor Maté points us to a path of desperately needed communal healing."
—Elissa Epel, PhD, professor, University of California, San Francisco, and co-author of the bestseller
The Telomere Effect
"In this brilliant, compelling, and groundbreaking book, Gabor Maté unveils the societal trance that has blinded us to the death grip of pervasive trauma in our world. He shows that this is not our personal trauma. It is sourced in a culture that undermines meeting our basic needs for connection, authenticity, and meaning. Drawing on his decades of pioneering clinical work, fascinating contemporary science, and contemplative wisdom, Maté offers us a way to bring clear seeing and a greatness of heart to the crisis of our times."
—Tara Brach, author of
Radical Acceptance
and
Radical Compassion
"Gabor and Daniel Maté offer a powerful and surprising redemptive path out of the toxic illusion of 'normalcy.' This remarkable and revolutionary book will profoundly impact the well-being of self, society, and our earth at a time when wisdom and compassion are essential for our common survival."
—Reverend Joan Jiko Halifax, abbot, Upaya Zen Center
"At a time when so many of us are struggling physically and psychically, Gabor Maté's
The Myth of Normal
is a godsend, providing wisdom and realistic hope. Maté is a revolutionary thinker and gifted writer whose work has always inspired me.
The Myth of Normal
is no exception. It's no exaggeration to say that this groundbreaking book can help us heal as individuals, families, and a society."
—David Sheff, author of the #1
New York Times
bestseller
Beautiful Boy
"As if Gabor Maté hasn't done enough already by depathologizing addiction, autoimmune diseases, and ADHD, now, in this magnum opus, he challenges us to expand our minds even further. In
The Myth of Normal
, he asserts that those problems, and the many other social ills that plague us, are not only related to the traumas we've suffered but are also symptoms of the toxic nature of our materialistic, isolating, patriarchal, and racist culture. What's remarkable about this beautifully written book is not just that he makes that bold contention, but how well he backs it up with an amazing amount of scientific research, compelling stories of his patients, and moving disclosures from his own life. Our culture is indeed very sick and I don't know of a better diagnostician of and physician for it than Gabor Maté. This book contains a prescription that, if we have the courage to follow it, will heal us all."
—Richard Schwartz, PhD, creator of the Internal Family Systems model of psychotherapy
"
The Myth of Normal
is a book literally everyone will be enriched by—a wise, profound, and healing work that is the culmination of Dr. Maté's many years of deep and painfully accumulated wisdom."
—Johann Hari,
New York Times
bestselling author of
Stolen Focus
"This gripping book builds upon two key truths for our time—that everything is connected, including psychic wounds and physical illnesses, and that these are not anomalies but ordinary, even epidemic, in the society we've built.
The Myth of Normal
is a powerful call for change in how we live with, love, understand, treat, and think about one another, by someone ideally situated to map the terrain and to give us some valuable tools with which to navigate it."
—Rebecca Solnit, author of
Men Explain Things to Me
"In this wide-ranging and beautifully written book, Gabor Maté and his co-writer son Daniel offer an acute diagnosis of what ails our culture and a blueprint for personal healing, while pointing the way to what is required to create a more hospitable, human-friendly world for ourselves and our children."
—Dr. Shefali,
New York Times
bestselling author and clinical psychologist
"Gabor Maté's latest book is a guide to self-awareness, social insight, and healing that is deeply personal and utterly transparent. Written with fluid, crystalline prose, profound wisdom, great humor, and hard-won humility, it merits becoming this generation's
The Road Less Traveled
. In my two-word summation,
The Myth of Normal
is Fiercely Tender."
—William M. Watson, SJ, DMin, president and founder, Sacred Story Institute
"
The Myth of Normal
is a detailed and wide-ranging look at what we all need to know—but all too often fail to live up to—when it comes to human health, sanity, maturation, and happiness. It's also a clear-eyed examination of the benefits, triumphs, limitations, and blind spots of our health and mental health care system."
—Resmaa Menakem, bestselling author of
My Grandmother's Hands, The Quaking of America,
and
Monsters in Love
"
The Myth of Normal
is a tour de force journey into the dissonant experience of being human in our aberrant and toxic modern culture. The journey is both heartrending and exalted in its underlying purpose—to heal the rift from our authentic selves and the collective trauma that stifles our natural expression and joy. If you are ready to do the brave and life-shaking work of examining the truth of your life and the culture that we are literally in the death grips of—this is your read."
—Rachel Carlton Abrams, MD, MHS, ABoIM
"
The Myth of Normal
presents a unique perspective in viewing what we see as 'normal' and opens up a way to wake up to what is real and authentic in our lives. Gabor and Daniel Maté
have written a compelling book that will challenge your views and help lift the veil of illusion to what is truly happening in your mind and in your body."
—Sharon Salzberg, author of
Lovingkindness
and
Real Happiness
"With rigorous research and painstaking detail, this book by esteemed physician Gabor Maté is a tour de force manifesto of how trauma impacts not just our individual bodies and psyches but our whole society.
The Myth of Normal
plants seeds for revitalizing what we consider 'normal' and giving ourselves permission to say no to what is making us unnecessarily sick."
—Lissa Rankin, MD,
New York Times
bestselling author of
Mind Over Medicine
and
Sacred Medicine
"This, Gabor Maté's magnum opus, is essential reading for us all. A genius writer, he gives it to us straight: From the mindbody to the body politic, we learn how loss of authenticity takes its toll psychologically, physically, spiritually, and socially."
—Julie Holland, MD, author of
Good Chemistry: The Science of Connection, from Soul to Psychedelics
"Every once in a rare while a book comes along creating a new vision of the world, illuminating for us that which until now has been invisible, yet as vital to our health and well- being as water is to fish, oxygen is for our bodies, and love is for our souls. This work is such a tour de force, a humbling and brilliantly written exposition of what deeper healing requires."
—Jeffrey D. Rediger, MD, MDiv, assistant professor, Harvard Medical School, and author of
Cured: Strengthen Your Immune System and Heal Your Life
"Gabor Mate is brilliant and passionate, tender and fierce, writing with an urgent honesty. His analysis is comprehensive and penetrating, combining deep scholarship, hard-earned clinical wisdom, personal trauma, and practical suggestions. This is a masterwork that reads like an intelligent thriller, highlighting our challenges with dramatic clarity while showing the way to their solutions. A must-have book for anyone interested in their own mind, in how our world got so crazy, and in the better future we can forge together."
—Rick Hanson, PhD, author of
Resilient: How to Grow an Unshakable Core of Calm, Strength, and Happiness

At 777counselling.com we have been granted permission to quote any of Gabor Mate's brilliant work for which we are extremely grateful
as Gabor and and Daniel's ethos and views on Trauma and trauma's underlying influence over virtually all and every
AVOIDANT METHOD & FORM OF BEHAVIOUR.

Be that
DRUGS, ALCOHOL, NICOTINE, GAMBLING, SEX. PORNOGRAPHY, SUGAR
MATERIALISTIC OBSESSIONS, WORKAHOLISM, SPORT, FOOD ETC



THE MATE'S REALITY TO LIFE IS TOTALLY AND ABSOLUTELY CONSISTENT WITH OUR COUNSELLING PHILOSOPHIES.



Counselling available by appointment at 777 Counselling & Supervision
ON LINE , BY PHONE OR IN PERSON.

CONTACT
AT


HOME

.




EGG TO CHICKEN TO KIND HUMAN
Process

Behavioural Development.
BOO
BEHAVIOUR DEVELOPMENT
WE SHARE ONE

LIFE

WE ARE NOT SEPARATE

FROM

NATURE.
Upon birth these new born precious tender bodies are hyper sensitive to each
And all aspects of nervous sensations.
Responding to
TOUCH, SIGHT, SOUND, SMELL, TASTE

WITH
SPECIAL HYPER SENSITIVITY
TO
ALL IMMEDIATE RADIATED ENVIRONMENTAL ENERGY.


(TO ANY POSSIBLE OR EVEN PERCEIVED SENSE OF DANGER)
CONSTANTLY & ACTIVELY SOURCING REASSURANCE
FOR LIFE'S OWN SAFE SURVIVAL.
Absolutely any SHOCK experienced by the nervous system to any of these senses
Is & are instantly recorded by the unconscious yet

IMPLICIT MIND
Stored as cellular memory through out the entire body.
Such memory then carries forward specific behaviour characteristics to ensure
That the discomfort of the experience
Is not to be repeated.
Establishing the condition generally referred to as

DENIAL
Where the individual instantly responds to any heightend emotional sensational
By adopting some form or method of
AVOIDANT BEHAVIOUR.
So we learn that any trauma maybe a possible underlying cause
Of eratic behaviour break out.
Most individuals, & especially men have been raised to suppress their emotions
Crying was for weak characters
Ok for Girls & Sissies
But not for big brave Boys.
Patriarchal abuse and denial has left man in a totally
UNKIND
MIND STATE
Where we have unintentionally & unconsciously created & allowed ourselves to be
Captutred and Enslaved
Into a Insatiable
Materialistic Machine of Endless Consumption.
This powerful psychological illness of self delusion
Leaves many people experiencing a sense of

Eternal Inadequacy,
Of
NEVER BEING ENOUGH.
Ever Wanting
& so
Ever Disappointed

In all aspects of life.
Upon the self recognition & Identification of our own early experiences of
SEPARATION & OR ABANDONMENT
We are then able to recognise and identify the consequential development of our

OWN BEHAVIOUR TRAITS
Which has or have repeatedly caused us concern, distress
&
Emotional Pain & Discomfort.



READ MORE

EXPLICIT LOVE

OR

At

HOME.
NEURODIVERGENT TO NEUROTYPICAL
Not a disability
Neurodivergent
People think
DIFFERENTLY
To
NEUROTYPICAL.
Neurotypical is a descriptor that refers to someone who has the brain functions, behaviors, and processing considered
standard or typical.
Neurotypical people may have no idea they are because the subject has likely never come up for them before.
These people usually hit all of their developmental and behavioral milestones at the same times and ages that are
considered standard for most people.
Once grown, they generally move through life without having to wonder if their brains function in the same way as others do.
Neurodivergence is the term for people whose brains function differently in one or more ways than is considered
standard or typical.
There are many different ways that neurodivergence manifests, ranging from very mild ways that most people would
never notice to more obvious ways that lead to a person behaving differently than is standard in our society.
We'll examine the most common types of neurodivergence and the ways they manifest ahead.
SEE EM RUSCIANO'S ADDRESS TO THE NATIONAL PRESS CLUB HERE.
FOR MORE INFORMATION GO TO OUR WEB SITE ARTICLE LISTED AT OUR HOME PAGE. THANK YOU. BE YOU STAY WELL.
UNCONSCIOUS DEVELOPMENT OF ALTER-EGOS
&
PERSONAL



"I"



"TIES"



In To Me See.

LIFE
Is
SPIRIT.

Life
Arrives with Conception
Life
Leaves at Death.

Time of our Life
Is a "WONDER FILLED" game.
So Playing the game of Life
Is a
"WONDER FULL"
Game to play.

CRM
By now you would have heard;
"Give me a boy till the age of 7 and I will cut you the man".
How can this be?
It begins at conception because as life alert,
Cognitive active species we are
Immediately and directly.
Influenced by and adapt to the environment in which we are conceived & raised.
OUR
Life Born Intuition
The==
I AM ==
In Us
Senses
ALL
Joy & Sorrow.
Born with this sensory & mental capacity to react to feelings
Our sensory being,
Our intuition remains eternally active
Establishing responses to the immediate environment.
So then
Neurons that fire together
BEGIN TO
Wire Together.
FROM HERE ON
EGO
Continues to
MAKE

HABITUAL
BELIEFS.


So we begin
To
Respond accordingly due to any perceived sense of

SEPARATION
Or
Lack of
ATTENTION
.
Studies show
identical connection of
Emotional Pain
TO
Actual Physical Pain.
Hence
"LOVE HURTS
"
Reason stands therefore that when pure innocent children are raised in a shaming, condemning, suppressing,
Belittling, emotionally starved, disconnected, violent, aggressive, neglective environment
From which our being naturally absorbs
Those condemning instructions.
All to be absorbed by the wisdom within LIFE itself
Such inborn wisdom has the necessary self protective ways
With self generated, self protective
Belief and behaviour to Survive.
Our Poly Vagal
Spiritually functional nervous system
Communicates automatically
Constantly mainintaining alert, guarding,
Protecting LIFE At ONE With IT's SELF
It is Here
Where
We Mentally Separate from
LIFE'S GIVEN WISDOM
From our fully functional & developed body
BORN
SELF.
Nervously sensed & reasoned cognitive behaviour
Adopted from environmental experience
Resist or Accept
Emotional Sensations
To Fire,
ON or OFF.
We put ourselves Down, Up,
Withdraw
or Freeze.
FIGHT, FLIGHT, FREEZE.
To avoid emotionally activated senses of discomfort
From incessant repetition of this traumatically forced process
Our inter connecting neurons begin to plasticise to become our
Wiring frame work,
Our Adopted Perception of SELF.
Adopting and establishing our method of self existence for survival.
It is through the development & influence of this process where our
Psychology actually influences the Physiology of our body.
Influencing the physical demeanour.
"Strong or Weak".
"LOVE"
Alex Milof Burning Man Festival 2015.
From here we simply become over performers or under achievers and accept the
Altered Ego, Personality Creation,
As our over ruling instructor.
Avoidant adopted, behaviours
Utilise learned attention seeking forms of traumatically activated behaviours to survive.
None of which are real.
NO
WE are not our EGO.
WE ARE
LIFE.
Being scarred and shamed under such circumstances where we are told
Scorned or intimated that we are dumb,
Stupid, no good, hopeless,
Will never succeed, will never be loved, or be love able, are fat, ugly, lazy,
Irresponsible, a failure,
A waste of peoples time, bad and horrid,
The struggling wounded child simply gets to hear and believe

Vile shaming condemnation
.
From such toxic condemnation a recurring characteristic self attitude is adopted.
One which too often apologises, self blames,
Remaining ever wary of accepting or trusting emotionally positive
Sensate compliments.
Of course over exuberant praise,
With gushing complimentary acknowledgement
May also produce an inflated
Alter Ego, Personality
Which may also generate insatiable and equally paralysing expectations
Driven by endless success and achievement to avoid
Dreadful fear loaded,
Inflicted shame and embarrasment of
FAILURE.
Oh no!
With to be expected & imagined
"Crash and burn" consequences.
From those
Recurring expectation with over reaching fear driven anticipation of failure.
"Never being enough".
As fragile, tender, adoptive minds we unconsciously
Form this ALTER EGO to be who we are.
Repiticous thoughts continue to mould, reinforce and confirm this self assuring
Alter- Ego, Personal Real "I" ity.
Alter Ego becomes the dominant aspect of our belief system from where
Failure or glory maybe progressively trained, educated and reassured.
This is how it happens.
WE LOOSE SIGHT OF THE REAL SELF
LIFE
WE ARE NOT OUR QUALIFICATIONS
NOR ARE WE
OUR ENVIRONMENTALLY CLONED
EGO.
All shapes, methods and styles of exposed, adopted, INDOCTRINATION contribute to this ever,
Over ruling, self possessed cognitive delusion which permeates and create "pockets"
of confirming attitudes within individuals which then radiate into the immediate
environment of relationships, family, and widely across society.
DEVELOPMENT OF DIVISIVE ATTITUDE.
Tolerance and intolerance

Many examples of these "pockets" are evident today where narrow Alter Ego
minded judgement exposes varying degrees of
tolerance and intolerance
to hard held
socially developed predjudice dominated behaviour be they based in
Devisive Racial,
Religious, Political, Material, Social, Colour or Cultural status.
None of which are real.
Yet again it is Alter Ego at work.

Well documented Religious
,
Political, Racial Indoctrination and predjudices are
First and foremost examples of these often radical, divisive,
Culturally developed ideologies,
Which maybe further exemplified through out and across
International cultures
Where homophobic, ethnic, and racial beliefs have seen mass annilation
To the extremities of war with its destructive violence and perverse attitudinal
Vested, Power driven domination.
None of these beliefs are real.
But a depraved Alter Ego at work some more.


All avenues of escapism be they
Sport, Sex, Sewing, Swimming, Surfing, Skiing
or
Laborious
Slavery
Are effective forms of Self Deluding escapism from our
REAL SELF.
Born with LIFE
TWO
Miraculously
Unite as ONE
DNA
Merged
Conception.

TWO BECOME
ONE.


People
Our world is amidst the greatest most threatening
SOCIAL, EMOTIONAL,
MISS
COMMUNICATION PANDEMIC
Of all time.
WE MUST LISTEN
TO LIFE.
We must regain possession of consciousness,
Of who we were born to BE,
Regain possession of our mind
RECOVER
OUR SPIRIT OF SELF

To avoid continually propogating
The
ILLUSION.
TO AVOID.
Ultimately disappear into some abysmal cosmic like black hole
As did chimney sweeps of the past
Without ever learning to live with the beauty of self,
Of
PLANET EARTH,
Our family of man and all the wonderful creatures who were also born
To share this planet.
When our life begins to recognise endless troublesome,
Difficult challenges,
As experienced,
And we begin to feel more emotionally disturbing
Threatening vibes,
Where new doubts for long term survival
Begin to plague your thoughts.
WHERE
We begin to sense and recognise the inevitability of impending
"Psychological Sun Down"
IT IS FROM HERE.

THAT
Intuit anticipation and Eternal Expectation within LIFE'S SPIRITUAL WISDOMForever seeks & provides survival assurance
ForNEW DAY & NEW WAY.SURVIVAL.
It is time to seek some Counselling support to release your mind
From the unconscious imprisoning
Alter Ego
Those once self accepted personalities
YES
PERSONAL
"I"
....Ties
And return to the beautiful
Free Minded
Suckling Child
You were born to be.
TIME TO RETURN
Start nurturing your self and your
Child Mind again.
HELP & SUPPORT IS HERE
AVAILABLE
To recover
SELF
REASSURING
NATURAL DEVELOPMENTAL COUNSELLING
See: HOME .... CONTACT ABOVE
Or
A WONDEROUS WELCOME TO THE NEW POLITICAL ORDER
OF


INDEPENDENT TEALS

.

The Brain Child of Anthony Reed
And many disenfranchised middle order
AUSTRALIANS

ALONG WITH GRACE TAME, BRITTANY HIGGINS & MANY OTHERS
WHO
WERE HEARD WITH AVENGENCE.

At the 2022 Federal Election.



TEAL

DUCKS OF HIGHER ORDER.


THIS LITTLE
PHDUCK.
Has been pecking away at ethical order and natural human decency for the past 42 years since Bankers were allowed to unapologetically screw the fully loaded market with high interest rates back in the 1980s.

This journey occurred following a disaterous and extremely disappointing experience with the former leader of the National Party Ian Sinclair who announced in the company of Ralph Hunt, then Minister for Gwyder and Wal Murray then leader of the National party in NSW following his Sydney office instructions to three of us who had travelled to his sydney office following a well attended meeting of concerned citizens held at Jerilderie also attended by guests, the late Rick Farley CEO for the National Farmers Federation & well know agricultural lobbist Neil Innall.

"Get out there in the bush and tell the electorate to write to me and I will take your complaints to the Bankers and see what we can do to address the crippling interest rates that we know are paralising the national rural community".


Well weeks later as a delegate representing Riverina whilst attending the annual Conference of the National Party, being held at the Rex Hotel in Canberra where I had spent the day watching in sheer inexperienced amazement as state representatives bartered and traded favours, deals and questionable price negotiated agreements.
All a daunting realisation and exposure to the behind the scenes inner sanctum of political stakes, beneficiaries and policy makers.

At the bar with above mentioned "Big Wigs" after the days trading I asked Ian Sinclair if our endless efforts across the country had created any effective impact and if people had made contact with his office.


"You must have been busy, I was swamped"


"Great so what are you going to do with the the banks"?


Was my naively reply?

Only to be told;
"Rod you and I both know we cannot do anything about the banks".


That was the day I discovered politics, hammered my glass on the bar & left forever.
That was the day.

PHDUCK
WAS BORN FROM PAIN
.
THE DAY THE MUSIC DIED.
CERTAINLY
AWAKENED TO THE CYNICISM OF PROFESSIONAL POLITICIANS.
YES
DUCK SEASON HAS SEEN "THE TIRED" FINALLY TURNED.
LETTING THE RABBIT OUT OF THE BAG
Read more...
SINCERE RESPECT WITH FULL ACKNOWLEDGEMENT TO

Spirituality & Relationships Writer

Sarah Regan






The 7 Hermetic Principles & How To Use Them To Improve Your Life
Many have sought to understand the natural laws that govern our universe.
Some say there are 12, while others, like Hermes Trismegistus, say there are seven.
Trismegistus explains the foundational laws of our reality in his seven hermetic principles.


Here's what these principles are all about and how we can all use them as a source
of inspiration and empowerment.
What are the 7 hermetic principles, and where did they come from?


The seven principles are the foundation of Hermeticism, a branch of spiritual philosophy
dating back as early as the first century A.D.
They were outlined by famed author Hermes Trismegistus, who is believed to have
written the Emerald Tablet and the Corpus Hermeticum (two highly influential,
ancient teachings). His work would go on to influence both ancient Greek and
Egyptian cultures, with both adopting him as a god of wisdom.
(In Greece he was called Hermes; in Egypt, Thoth.)
He was known in his time as a great master of the universe and is said to have lived
for thousands of years.
Over time, the seven hermetic principles were passed down by word-of-mouth from teacher
to student, and eventually, one day in the early 20th century, the teachings were compiled
into a book called The Kybalion, written by "The Three Initiates."
Today, they remain an occult source of wisdom, separate from any real religion but
powerful nonetheless. And while the seven principles are just one way of understanding
the universe, they aren't so constricting that they cannot be studied alongside other
spiritual philosophies.
Here's what each of the seven principles is all about:
1. The principle of mentalism
.
"The All is Mind; the Universe is Mental." —The Kybalion
The principle of mentalism states that the universe is akin to a mental projection.
This is like manifestation 101, which is all about using your thoughts to shape your reality.
For anything to be, a thought must precede it.
Through this principle, it's believed that God is consciousness, or thought, and the universe
is a manifestation of the mind of God.
Using this law, we, too, can harness the power of our minds to create the life we want.

How to apply it:
Consider the initial thought that led you to be able to read this, on whatever device
you're on. Or even the thought that is most influencing your mood right now.
When we recognize how much our thoughts manifest every day, whether internally
as a physiological or emotional state, or externally, as the things we do or places we go,
we see that when we can control our mind, we control our lives.
We can get better at this through spiritual practices such as meditation, which help us
train the mind.
2. The principle of correspondence.
"As above, so below; as below, so above." —The Kybalion
We've all heard this quote before, but maybe you never knew it was Hermes who first
coined it.
It's closely related to the first principle of mentalism and states that what we hold
in our thoughts and mind will become our reality.
It explains the many planes of existence, including those of lower and higher
vibrational frequencies and how they're connected.
How to apply it:
Applying this law is all about understanding your connection to the world around you and
how you're showing up for yourself and the universe through your thoughts, and
subsequently, your actions. When we have a firm grasp on how we're interacting with
life and how it's affecting us, we can recognize and break patterns, live in alignment
with our highest good, and feel harmonious with everything there is.
3. The principle of vibration.
"Nothing rests; everything moves; everything vibrates." —The Kybalion
Yes, believe it or not, the idea of "vibes" has been around a long, long time.
The principle of vibration states that all things, both physical matter and spiritual energy,
hold a certain vibration.
Basic science tells us atoms are in constant motion, as is the universe itself.
Even our hearts, as they beat, give off different vibrations depending on our emotional
state. And when we're "vibing high," we're able to avoid low-level frequencies that
don't serve us.
How to apply it:
This will look different for everyone, but to apply this third principle, you want to not only
do things but think thoughts that allow you to be in a state of ease, where your body
is "vibrating" at a more positive level.
Applying the first two principles can help you start to do this. (You might be noticing
all of these principles are deeply interwoven.)
With this principle, we acknowledge that we have the power to control our vibration
rather than our vibration controlling us.
4. The principle of polarity.
"Everything is dual; everything has poles; everything has its pair of opposites;
like and unlike are the same; opposites are identical in nature but different
in degree; extremes meet; all truths are but half-truths; all paradoxes may be reconciled."
—The Kybalion
The principle of polarity explains that seemingly opposite things are actually one and the
same at varying degrees.
A simple example of this is hot and cold.
Cold is just the absence of heat, and they're both one thing: temperature.
Physical matter and spiritual energy are the same thing, with spiritual energy vibrating
at a much higher level, such that it can't be perceived by our senses.
Love and hate are two ways of experiencing the same thing, a relationship toward
something. This is the foundation of alchemy, or the ability to "transmute" your
experiences at will.
How to apply it:
Applying the principle of polarity takes a degree of mental stamina and involves
shifting the way you look at something, potentially completely on its head.
Take the hate you may feel for someone: Is there any way you can shift it to feelings
of love, for example?
Any time a lower vibrational emotion is bringing you down, can you recognise it, feel it,
and transmute it to a more positive one?
5. The principle of rhythm.

"Everything flows, out and in; everything has its tides; all things rise and fall;
the pendulum-swing manifests in everything; the measure of the swing to the
right is the measure of the swing to the left; rhythm compensates." —The Kybalion
Closely related to the principle of polarity, the fifth principle states that between the
opposing poles, there exists an inherent rhythm. The tides move in and out.
We inhale and exhale. Everything is in motion. Nature has its seasons and so, too, do we.
Understanding this principle allows us to recognize our life's—and the universe's—
natural rhythms, so we can actually work with them rather than having them working
against us.
How to apply it:
Know that nothing lasts forever, and things are ever-changing. As you get deeper into
working with this law, you'll be able to work with your own emotional states to
avoid a dramatic pendulum swing of feelings. It's thought that eventually the master
will be able to completely transcend duality, but if you're just getting started, try
becoming more aware of your emotional state and using polarity (No. 4) and rhythm
to start getting more comfortable with the natural fluxes of your life.
6. The principle of cause and effect.
"Every cause has its effect; every effect has its cause; everything happens according
to law; chance is but a name for law not recognized; there are many planes of causation,
but nothing escapes the law." —The Kybalion
Everything is connected through the principle of cause and effect, for each cause of
one thing is merely the effect of something else, going back to the very beginning.
Ask yourself, are you a cause? Or are you an effect?
This principle is all about acknowledging the effects of our thoughts and behavior and
how we may change them to bring about greater effects.
How to apply it:
When something doesn't go as planned or you find yourself unhappy, ask yourself,
what was the cause? Many times, we find ourselves reacting to the world around us,
trapped in a back-and-forth of reacting to our circumstances rather than forging our
own path.
When we take action to get the effect we want, we move from feeling like a victim to
feeling empowered.
7. The principle of gender.
"Gender is in everything; everything has its masculine and feminine principles;
gender manifests on all planes." —The Kybalion
The seventh principle states that all things have masculine and feminine qualities.
Yes, the two sexes can be thought of as a physical manifestation of this principle,
but as we're all coming to understand, on an internal level, all of us hold both energies.
(Think the left and right brain.)
Masculine and feminine energy exists in not only the physical plane but the mental
and spiritual plane as well. The unity of these two energies is essential for creation,
and when one has a balance of both, they're better able to apply all of the principles
together for maximum benefit.
How to apply it:
Accept all the parts of yourself, and understand that balance in all is key for
self-mastery. Buddha called this the middle way, and it's all about the balance of
masculine and feminine; of heavenly and Earthbound; and of the mind, body, and spirit.
When we can achieve this balance within ourselves, we're well equipped to harness all
of these principles and use them in our lives for good.
If this all sounds like a lot—don't worry. These principles run very, very deep, and it can
take a long time to fully understand and embody them.
Each time you come back to them, you may understand them in a new way, or on a
deeper level.
And in time, these principles can help you master your own mind and your life as a whole.
Another interesting study has suggested a direct corelation of the Cosmos to the Brain.
<a title="Cosmos And Brain" href="https://themindunleashed.com/2020/11/scientists-the-human-brain-and-the-entire-universe-have-odd-similarities.html?utm_source=ONTRAPORT-email-campaign&utm_medium=ONTRAPORT-email-campaign&utm_term=&utm_content=
CRUEL *SANCTIONED* LANGUAGE
*SANCTIONED*
* Meaning
Authoritative
permission

Or
approval
that
makes
a
course
of
conduct by
Thought , Word Or Deed

Valid*.

Neural Divergent & Neurotypical


EMMA RUSCIANO
EXPLAINS

WRITTEN ON OUR WEB PAGE TITLED MENTAL WEALTH
ASSOCIATED WITH PSYCHOLOGICAL ASSESSMENTS
Needed to be pulled from each end by
DIFFERENT THINKERS.
TO SHOW A STRAIGHT LINE
TO REFLECT
BELL CURVE FREE

FLAT LINE STATISTICS

DEMOND+STRATING



SOCIAL EMOTIONAL ECONOMIC




Yes
DIFFERENT THINKERS
SUCH AS
ASH BARTY
Cathy Freeman
&
Evonne Goolagong
Cawley

DIFFERENT
SIMPLE CHAMPION LEADERS
WITH
INCREDIBLE PERSONAL DEDICATION
SUFFICIENT TO LIFT THE NATION
AUSTRALIA
AS ONE IN SPIRIT
BECOMING
UNIVERSALLY EMPOWERED
Heart Body & Soul
MESSENGERS.
Along with
DIFFERENT
INTERNATIONAL
Leaders of Conscious Change
INCLUDING
Nelson Mandela, Mahatma Ghandi
LEADERS
OF

REFORMATION DONE
DIFFERENTLY.
WHERE EACH & EVER INDIVIDUAL
BECOMES
RESPONSIBLE
AND
RESPONSE-ABLE
BUDDAH


"Meek and humble shall inherit the earth".

GENTLE
"*SIMPLE PEOPLE*"
INCLUDING
"A Sandwich short of a picnic"


"A Card short of a pack"


"Brick short of a load"

"Lights on but no one at home".


"Having kangaroos loose in the top paddock"


"With Bats in the belfrey"


"Toys in the attic"

"Wet behind the ears"

CRUEL *SANCTIONED* LANGUAGE
Who on this EARTH has the right to cast such judgement ?
TOO OFTEN
Cruel judgement upon any fellow man ?
According to the tick box questionnaire of the
DSMV.
(Diagnostic
and
Statistical
Manual
of
Mental 'O
rders v5.)?

No Mortal soul has the right to cast such wicked
In many instances
Life long CONDEMNING LABELLING
Cruel judgement by some

VIRTUAL "ACADEMIC" DECREE.


THIS CONDEMNING CRITICAL
Alienation and Discrimination of Judgemental licence
Has been practiced incorrectly upon society for way too long.

With time having effectively fixed
A segregated cultural division:

OF

THEM
FROM
US
&
US
FROM
THEM
WHERE "COMMON" REPRESENTS
INDIVIDUALS AS
6 PRE PACKED SAUSAGES
OR
12 EGGS
PER BOX.
MANKIND
IS

ONE

SPECIES.


OUR INDIVIDUAL DNA

Ensures Each & Everyone of us
Are all on that
STRAIGHT LINE
Some Where.
***
WE DO UNDERSTAND
SOME "COMMON MEMBERS" OF THE SPECIES

"SIMPLY"


Did not and some still remain
Incapable
To communicate with and accept


DIFFERENT
INDIVIDUAL MEMBERS.YES

We have heard
"How long shall we kill our Prophets"
Bob Marley
,
Kahlil Gibran
.
Albert Einstein,
Dr Wayne Dyer
, Dr Gabore Mate
&
Many Others
OF PROFOUND GENEROUS WISDOM.

Modern day leaders of change
Such as
Australian's of the Year
Rosie Batty 2014
Lt. General David Morrison 2015
Grace Tame 2021
and
Dylan Alcott
AUSTRALIAN'S OF THE YEAR


Most certainly do know how to communicate with
COMMON MEMBERS OF OUR SPECIES.


HOWEVER


AS FELLOW
"COMMON MEMBERS"


WE OFTEN DO NOT LIKE WHAT WESEE AND HEAR.
Maybe Because
WE FEEL

Some what Threatened,
Fearful & OR Challenged

Even
UNCOMFORTABLE.
TRUTH BE KNOWN
"Change is Gradual"
WITH DUE CONSIDERATION
WE CAN & SOME DO GET TO SEE & FEEL
OUR RIGID, MINDED.
SOCIAL STUCKNESS.
WITHIN
OUR OWN
FORMERLY
"DIS-LABLED"
"RIGIDLY WIRED"
WAYS.
Of course we do find it challenging to change our
Divisive
Conditional judgemental ways.


Challening OUR Environmentally adopted
Socially arranged customary illusions
As methods

Of
SAFE
SYSTEMIC SURVIVAL
AMIDST
DOMINATION FOR ECONOMIC CONTROL.

COVID
A REAL KILLER
HAS BEEN OUR OPPORTUNITY

A WAKE UP CALL.
Exposing
REALITY OF LIFE & DEATH.


DIFFERENT LEADING PEOPLE
Australians Of The Year
Rosie Batty, Grace Tame & Dylan Alcott
With other Prophets of the AGE
MUST BE
SEEN & HEARD.

Please move out of the way.
NOW.
Don't allow your mind block their calls.


"TIMES THEY ARE A CHANGING".

ALL HEART & SOUL
Following on from earlier articles on this web site with relation to
Infant Development.
We are very pleased to be able to include the above work by Gregg Baden who has dedicated his life to the study of the HEART and human self development through observations of Indigeneous Cultures who have retained their customary means and ways of maintaining Individual and Community health.
No longer need we question the negative HEALTH impact of STRESS upon us and our premature aging when we know and understand the reality of the human system to process the chemistry generated by the brain in response to nervously absorbed and assimilated toxic energy from the ever increasing pressures and expectation of performance for mere survival.

Remember John Farnham did tell us to Turn the Pressure Down.
DIS-EASE
Unquestionably accumulates through out our body in TOXICALLY concentrated charges.
Unconscious & oblivious to the Wisdom of Life's Innate Intelligence
We compartmentalise this poison and bury it into our vital organs of our
Heart, Thryoid, Lungs, Breasts, Kidneys, Liver, Spleen, Stomach, Intestines, Bowel,
Genital & Reproductive Organs.
To Manifest as
CANCEROUS DISEASE
.
Through PERSONAL SELF DEVELOPMENT UNDERSTANDING
BEHAVIOUR THERAPY AWAKENING
We are able to learn to SELF identify our STRESS and ANXIETY
To Become SELF AWARE.
Sufficiently Self Aware to deal with this body TENSION.
Through HEALTHY energetic releases instead of UNHEALTHY Practices.
WELL ADVERTISED & SYSTEMICALLY PROMOTED
ADDICTIVE AVOIDANT PRACTICES

Such as Alcohol, Sugar, Food, Pornography, Gambling, Drugs &
Of course Our
Electronic gadgets & Technological tools.
Before such accumulated STRESS
Begins to corrode and age us.
To ultimately & prematurely have us buried Under the Grass.
Checking out the Daffodil Roots from Six feet Under.
No Need to box yourself in.Call out for help.
As mentioned in other posts De'Nile is not just a river in Eastern Africa.
Help available here.
Contact us Above
Or Click on TRAUMA in Articles.
REJECTION SENSITIVE DYSPHORIA
THANKS ONCE AGAIN TO PSYCHOLOGY TODAY
AND
Author
Sharon Saline Psy .D.



Rejection Sensitivity Dysphoria
How to overcome the pain of criticism and finally feel good enough.
THE BASICS
It is Not only People who are diagnosed ADHD and ADD
That are exposed to this rather cruel heightened condition
Of emotional sensitivity to
ANY
Forms of or Perceived
Moments of CRITICISM,
Be they REAL or IMAGINED



KEY POINTS
Rejection sensitivity dysphoria (RSD) is a common modern day psychological condition co-existing with the awakening studies of ADHD.

Those with RSD are extremely sensitive to criticism, often holding on to negative words or actions made towards them for months, or even years.

An ADHD-RSD combination is difficult to overcome, but some strategies include focusing on one's strengths and practicing self-compassion.
Do you ever feel so devastated by the criticism from a friend, teacher, boss, relative, or co-worker that you keep repeating what they said to you over and over? Is it really tough for you to rebound after feeling left out by your friends or saying something you regret?
You, like many other emerging adults, may struggle with rejection sensitivity dysphoria.(RSD) is a common condition co-existing with ADHD but not a formal diagnostic category.

Rejection sensitivity dysphoria refers to intense feelings related to the belief that you've let other people down, embarrassed yourself, failed at something, or made a serious, unfixable mistake and, as a result, people pull back their support, love, or respect. RSD causes extreme emotional pain that plagues both children and adults — even when no actual rejection has taken place.

People with RSD struggle with letting go of past hurts and/or rejections and experience heightened emotional sensitivity. They may hold onto unkind words or actions directed towards them for months or years.




If you have RSD, you just can't seem to shake off critical comments from others and believe at some level that you deserve them. You think you've fallen short and, with your exquisite sensitivity, no matter what anyone else says, you just can't bounce back. It's especially tough to recover from personal criticism or rejection.

Because many older teens and adults with ADHD may already experience a feeling of otherness, they often already feel like they are at a disadvantage and often internalize negative voices. Living daily in this one-down position intensifies RSD and exacerbates

shame

.


Identifying rejection sensitivity dysphoria

Signs of RSD include:


Struggle with low self-worth or

self-esteem

Easily embarrassed or ashamed

Quick to

anger

or blow up when perceiving a rejection or getting hurt by someone

Sets high expectations that are difficult to meet

Experiences

social anxiety

and relationship challenges

Sees themselves as a failure when they disappoint others

May consider self-harming behaviors

Anticipate rejection in new situations
In a society that is overly focused on social media where we can compare ourselves to others 24/7, people with ADHD frequently judge themselves and come up short.
With the ADHD-RSD combination, your negative thinking combines with exquisite sensitivity to make it harder to bounce back and stay resilient.

Reducing the effects of rejection sensitivity dysphoria

Here are five tips to help you work with rejection sensitivity and reduce its tumultuous effects, whether you need a little reassurance or you're helping a friend or loved one who is struggling.

1. Reinforce strengths.

What everyone needs to remember is that simply having RSD does not make you a human who is weak or incapable.
You are just wired to feel things more intensely and replay unpleasant interpersonal interactions over and over.

RSD is linked to social insecurity.

A helpful tip is to consistently nurture your strengths and focus as much as possible on what You love to do and what You do well.
Pay attention to your positive efforts:
Write down three good (or good enough) things that happened each day before bed.
This will help you see things from a new perspective and shift from negative self-talk.

2. QTIP — Quit Taking It Personally!

Many older teens and emerging adults with ADHD struggle to separate when a statement is directed specifically at them or when it's something more general.
You take things personally that may not be personal.


Practice taking a pause before responding to a question or answer by saying:
"That's a good question/comment. Let me think about it."
Or ask for some time after an unpleasant interaction by saying:,
"I'll get back to you about this." Then you can better assess what's being said.

Remind yourself that other people can say thoughtless or hurtful things sometimes which are

more about them than you

.
Consider the source of the statement.
Plus you may perceive a rejection that's not there or is unintentional.
Check things out before coming to a conclusion, maybe by asking a neutral person if they heard what you did.



KNOW THE FEELING?

Happy to speak with you about it.
Contact us by email above to arrange your appointment.

Don't let the discomfort brew.
Speak to someone.


Becoming an adult occurs upon simple recognition and actual granting
Of Self Awareness to the
INNATE WISDOM WITHIN LIFE.
Understanding sufficiently to actually accept self possession
To hold response able ownership
Of this unconsciously self established
Infant founded process.
Leads to the wonder filled discovery and revelation of
OUR SELF.
Our Self is the Life and Body
We have actually Self developed to survive in the wilderness of environment Earth.
OUR SELF IS THE REAL LIFE SELF
NOT
Who we thought we Were,
Or think we ARE.
This former Self establishing process occurred in infancy,
Entirely beneath actual conscious awareness.

Conscious Awareness occurs when we
RE-ALIZE
LIFE's WISDOM
Upon this realisation our entire nervous system takes back permission to
release
previously
Retained energy which has been bodily stored for our individual safety and protection.

Since our first
NERVOUS SEPARATION

FROM WITHIN LIFE IT'S SELF.


The nervous energy previously stored and blocked by self retention now may flow freely for
Release and often appears through the process of yawning in Counselling sessions.


A Yawn is an energetic release of tiredness formerly mis identified as BOREDOM.
Yawns are Energetic nervous passages to and from the entire body.

Yawns are regularly substituted by other forms of activated avoidant behaviour.

Energy releasing or
avoidant behaviours
such as Working, golf, sport, movies,
Drinking, laughing, eating, gym, gambling,
"internetting"
,
Pornography, sex, mastubation,
Sky diving, Mountain biking, thrill seeking adventures, tourism included.

All Neural transmitting and Adrenaline stimulators.

HOWEVER
Such avoidant behaviour does not address the accumulated stressors and tension.

In fact Work, Alcohol, Drug, Sex or Gambling fuelled
"BENDERS"
Often leave the individual actually feeling worse Off.
Physically, Spiritually
Exhausted.
Penniless.
GUILTY with A SHAME RIDDEN TOXIC HANGOVER.


REALISATION OF SELF LEADS US TO ACTUAL AWARENESS.
FOR
Energetic release of unconsciously withheld DIS- Ease
Of many stored & hurt parts within.
For this latent store of time accumulated energy,

To take ITS Permission for
Safe formerly unidentified release,

Here Mental Reconnection
Gives meaning & sensed awareness to the discomfort
As it expresses itself out of the body,

We hear & feel pain as words through recalled stories.

Taking passage out of our Auto Nervous body System.


**REALISATION**
Comparable in kind to the former unconscious retention,

Along with the controlled release of bodily waste.

That Is.
Getting rid of our S*!T.


From our Body Store.
***
Further articles check the Trauma Tab in Articles above.
ATTENTION DEFICIT RELATIONSHIPS

The ADD RelationshipExcerpts from CHAPTER 27
"SCATTERED MINDS"
( Track 30 Audio Book )
By
Gabor Mate

Remembering
What Didn't Happen:
"The child who is deprived or rejected will tend to over-react
To successive separations throughout life".
– ROBERT W. FIRESTONE, PH.D., The Fantasy Bond
Maté, Gabor.MD Author:
Attention Deficit may start early and may also carry genetic DNA influences.
Hyper vigilant nervous circuits contained as & within LIFE are activated whenever
OUR LIFE SENSES ANY "INKLING" OF DANGER
Being Left, Abandoned or Separated.
They are those encoded emotions first experienced when,
As highly sensitive infants
OUR LIFE did not receive
*Unqualified *Undivided * Essential *Loving Attention.
ESSENTIALLY REQUIRED BY THE CENTRAL NERVOUS SYSTEM
TO REMAIN
CONNECTED.
TRAUMATIC SHOCK CAUSES INSTANT DISCONNECTION
In this way we somatically store

WHAT DID NOT HAPPEN.
A
DREADFUL CELLULAR
UNCONSCIOUS SENSE OF
NEVER GRATIFIED
ACHING EMPTINESS.
The fear of rejection is not unique to the ADD personality—
No single psychological feature of
attention deficit disorder is unique.
Its importance in attention deficit disorder comes from the
Hyperactivity Of temperament
Everyone with ADD was born with.
In the ADD adult, as in the child,
This
hypersensitivity magnifies
the impact of
Every emotional stimulus.
ANXIETY LIVES HERE.
The fear of rejection is never far below the surface.
People with ADD are exquisitely sensitive to the merest hint of "IT",
Even if the hint is only a figment of their fearful imagination.
"IT" is triggered by any stimulus that ever so vaguely resembles rejection,
Even if no rejection is intended.
The trigger can be a wife declining to have sexual intercourse with
her husband on a given night, but it can also be as minor as a glance,
An inadvertent comment or an averted look.
The ADD adult does not know the difference between refusal and rejection.
When he hears no from a lover, a friend, an employer,
It's as if the universe is negating his right to exist.
In the above example, the wife may or may not have rejecting feelings toward her husband, But his
implicit memories
make it impossible for him to feel anything other than rejection.
Poor self-regulation
also disables him from responding like an adult,
No matter whether his partner feels rejecting or only uninterested.
The emotions associated with implicit memories of feeling rejected may be strong enough to Bring up thoughts of life not being worth living.
"My husband looks so lost when I say no to him,"
A woman reported during a family therapy session.
"He looks completely defeated and crushed. It makes me feel so guilty."
The husband's response is that of the sensitive infant when the parent is emotionally Unavailable, because for the infant life truly seems impossible without contact with the Nurturing parent.
The other, the one who did the "rejecting," is seen and thought of as all-powerful and cruel;
The self is experienced as isolated and helpless, utterly unable to escape from emotional pain.
One man who felt unwelcome in the marriage bed spoke bitterly of his wife as the ice queen—
By implication, he was the abject underling.
We can recall now that the Orbitofrontal Cortex is also thought to play
A major role in emotional self-regulation.
It helps to inhibit the powerful emotions,
Like fear—and fear's offspring, Anxiety—


That are generated in the
Amygdala
and other brain centres below the level of the Cortex.
As we have seen, in ADD the ability to inhibit powerful emotions is impaired because the connections of the OFC with the lower brain centres
did not develop optimally
.
Just as hypersensitivity magnifies the sense of being rejected
,

So

deficient self-regulation



Due to impaired inhibition by the Cortex

Exaggerates the response to rejection.
With this in mind, we can understand what comes next.
The response of the infant to the fathomless anxiety of physical or emotional separation from the parent is either rage or withdrawal, or a combination of both in sequence.
"This is how I have many times reacted in similar circumstances." writes Gabor.
In the second volume of his trilogy on attachment, John Bowlby describes what was observed when ten small children in residential nurseries were reunited with their mothers after separations lasting from twelve days to twenty-one weeks.
The separations were in every case due to family emergencies and the absence of other caregivers, and in no case due to any intent on the parents' part to abandon the child.
"On meeting Mother for the first time after the days or weeks away every one of the ten children showed some degree of detachment.
Two seemed not to recognise Mother. The other eight turned away or even walked away from her. Most of them either cried or came close to tears; a number alternated between a tearful and an expressionless face."
After periods of briefer separation the infant around one year of age will exhibit rage.
Bowlby also points out that the parent can be
Physically present but Emotionally absent
Due to stress, anxiety, depression or preoccupation with other matters.
From the point of view of the infant, it hardly matters.
His encoded reactions will be the same, because for him the real issue is not the parent's Physical presence but her Emotional Accessibility.
The withdrawal dynamic has been called defensive detachment by Bowlby.
It has one meaning:
"So hurtful was it for me to experience your absence
That I will encase myself in a shell of hard emotion,
Impervious to love—and therefore to pain".
"I never want to feel that hurt again".

As a result, ADD adults find it difficult to trust in relationships,
To make themselves truly open and vulnerable.
Depending on the degree of early sorrow they experienced, the very idea of commitment may make them anxious. Especially men with ADD will, entering deeper into a relationship,
Keep half an eye on possible exits.
"I am always on the lookout for a parachute relationship," one thirty-year-old man said.
No matter who his current partner was, he felt safer if he could think of another woman to take her place should the need arise.
The criticalness toward his partners that "Stephen" experienced once he felt they had
"warmed up" to him was really an expression of his fear of intimacy.
The other aspect of "Stephen's" criticality arises from boredom.
Many adults with ADD report that they quickly become bored with relationships,
As with much else in life.
They imagine this boredom of theirs to mean that something is lacking in their partner:
The reality is that they are bored with themselves.
A person not in contact with
internal sources of energy and interest in the world
Has to search for outside sources.
Believing that fulfilment can come only from someone else.
This is the implicitly remembered state
of the infant hungry for emotional nourishment,
Lacking the capacity to satisfy his own needs and having to look to the parent.
The demand placed on the partner in the love relationship is that he or she—the other—
Fills the emptiness within oneself.

But such nourishment is found only through psychological
And Spiritual growth,

Through self-discovery.
So long as I expect another person to provide what I am lacking in myself,
I am bound to be disappointed.
The temptation then is to look for another partner,
A new relationship in which, perhaps, I will find what I feel is missing.
In the absence of personal development this quest is doomed
,
As the
relationship nomad
keeps discovering.
The fear of intimacy is also a fear of the loss of self.
There is the well-known paradox that the person with ADD craves real human contact,
feels like an outsider and wishes to belong—
But at the same time is reclusive,
Often preferring his own company to that of others.
The paradox is due to his oscillating back and forth between two fears:
The anxiety of loneliness and abandonment, and, opposing that,
A parallel sense of danger that if he commits to a relationship,
He will be overwhelmed, swallowed up.
"It's only when I am alone that I can really be myself," said Frank, a fifty-year-old writer who came to see me in the immediate after-math of yet another abortive relationship.
Such a person is presented with a choice between two alternatives,
neither of which is satisfactory:
One either choses the relationship and gives up the self,
Or
Retains the sense of self but gives up on the relationship—
and, in some cases, on almost all social contact.
The unsolved problem is how to be oneself in contact with other people
.
People desperate for a relationship will surrender their sense of self, their true feelings,
For fear of being rejected;
When they have gained the relationship they may pull back,
As "Stephen" repeatedly has, in order to reconnect with that precarious sense of self.
This dynamic is often seen after the most intimate act of all, sexual intercourse,
When following deep attraction and union,
There is an alienation and a drive to separate which men, particularly, may experience.
One may be in a long-term relationship, lasting even decades,
Without ever feeling completely committed to it.
The ambivalence is an
intrinsic memory
of childhood emotions when a choice had to be made between staying with oneself, with one's real feelings, and thereby jeopardising the relationship with one's parent, or going for the relationship, at the cost of suppressing parts of oneself.
One gauge of persistent problems with intimacy in an ADD relationship is the couple's sexual life—or the lack of it. "Non-existent" and "What sex life?" are two of the common replies my questioning around this subject tends to bring.
The lack of sexual intimacy is in most cases an unmistakable sign of mutual emotional shutdown.
Interestingly, I see this not only in families where one of the adult partners has ADD, but also where one or more of the children has it, even if neither parent does. In the latter case, this marker of absent intimacy between the parents speaks volumes about the emotional alienation and tension in the midst of which the child exists.
Also dampening sexual ardor is the propensity of the ADD adult, the male especially, to behave like an irresponsible child.
This may lead his spouse to act like his mother—organising his life, taking care of his emotional needs.
Many a wife of an ADD husband has complained to me of feeling as if she has an extra child in the house—five foot ten, perhaps, balding and with a greying beard.
Along with that mother role, unfortunately, may come an ever-increasing component of scolding and nagging—which I have heard many a man complain of. The response to feeling that another person is trying to control him—even if it's a spouse, and even if she has legitimate reasons to be anxious—is to resist.
Counterwill, described in chapter 20, mostly in regard to children and teenagers, is also a major dynamic shaping the responses of the ADD adult.
It is a powerful factor in the ADD relationship. The couple find themselves chronically caught in the dense shrubbery of anxiety, control, resistance and oppositionality. One of the problems with such a mother/son relationship is, of course, that no mother in her right mind wants to sleep with her son; nor do reasonably healthy men fancy going to bed with their mothers.
I have frequently advised couples that if they truly want adult intimacy, they mutually need to give up the parent/child roles toward each other. "People gravitate toward their emotional mirror images," Michael Kerr points out.
It is well recognised now that people will form relationships with others exactly at the same level of psychological development and self-acceptance as their own. "People tend to sort themselves by levels of emotional development for many purposes, not just marriage," writes Stanley Greenspan, "because those functioning at different levels are practically speaking different languages…
People widely separated developmentally in fact have very little to talk about."
What we might call the law of equal development holds true even if the partners themselves buy into the mythology that one of them is more emotionally mature than the other.
Such an illusion may be created because one may seem to be functioning in the world more successfully than the other. Usually it is women with ADD who tell me that their husbands are better adjusted than they are. By certain criteria, it may seem so. The man may be working, be earning a good income and have much more confidence than his wife when it comes to worldly affairs.
When such a relationship is examined, it becomes apparent that though the financially rewarding work is being done by the husband, the invisible division of labor charges the wife with all the emotional responsibility.
Not only is she the linchpin holding the family's emotional life together, but she also has the secret and mutually unconscious assignment of absorbing her husband's anxieties, protecting his fragile ego, enabling him to function in the belief that his strength is purely intrinsic to him.
His anxiety can be noticed, however, as soon as she becomes unavailable, for whatever reason.
The cause can be something as minor as a three-day flu. Many wives report their husbands to be unaccountably tense and sullenly unhelpful whenever they are ill, which signifies the man's anxiety—his implicit memory of finding his mother, or perhaps father, inaccessible.
An individual with ADD choosing a partner on the same plane of psychological growth as herself is unavoidable.
Since ADD by definition implies
underdeveloped emotional intelligence
, any such relationship, also by definition, will begin with two people who have both been stuck at fairly early stages of emotional development.
Although, as with every other aspect of ADD, there will be a broad range of variation, no ADD relationship will avoid the problems arising from the mutual lack of maturity.
By maturity, I mean here the degree of individuation, the capacity of the person to genuinely sustain herself emotionally during difficult times without having to be mothered or fathered by someone else.
I interpose genuinely because many people pretend to themselves and to others that they are capable of taking care of themselves emotionally, but they do so only at the cost of suppressing their anxiety. The buried anxiety will not be denied but will assert itself in the form of psychological symptoms or direct physical illness.
Another rule with almost no exceptions is that our choice of relationship partners is patterned on our interactions with our parental caregivers. This is so even if it may appear superficially that the differences far outweigh any possible resemblance. "Many people have a hard time accepting the idea that they have searched for partners who resembled their caretakers," writes the family therapist and educator Harville Hendrix.
"On a conscious level, they were looking for people with only positive traits—people who were, among other things, kind, loving, good looking, intelligent, and creative… But, no matter what their conscious intentions, most people are attracted to mates who have their caretakers' positive and negative traits, and, typically, the negative traits are more influential."
In neurophysiological terms, our choice of mate reflects the early relationship patterns stamped in the neural circuits of the right prefrontal cortex, especially its orbitofrontal portion. The OFC will recognize and hone in on some-one who, on the unconscious level, activates its familiar reactions. This person, after all, will most resemble the persons whose love one so desperately craved all one's life.
We are inexorably drawn to marry the individual who is, of all potential partners, the very one most likely to trigger in us the most painful and confusing of implicit memories—as well as the warmest, happiest ones.
Relationships have to change if one is to create the conditions for growth. "I must be a very strong person," Jennifer, a thirty-three-year-old woman with attention deficit disorder said to me.
"I must be, otherwise I could not have put up with what I have had to in my marriage." Her husband was well-meaning but domineering, emotionally absent and completely closed to getting any joint Counseling or therapy. She felt very alone. I agreed that she had a lot of strength to carry on under such circumstances, holding down a job and taking the main responsibility of raising their children, one of whom has fairly marked ADD.
She also exhibited emotional strength in recognising, unlike her husband, that she needed help.
There is, however, an important and oft-overlooked difference between being strong and being powerful.
Strength is an inner quality; power is a matter of relationship. I may have strength, yet at the same time I may be powerful in one relationship and utterly powerless in another.
"Which partner in a marriage has to 'put up' with stuff?" I said.
"The less or the more powerful one?" Jennifer's willingness to accept an unfairly heavy share of the burden was, as always, a reenactment of her childhood status in her family of origin.
As long as she continued to shoulder those burdens unquestioningly, she could make little headway toward her goal of development and the diminishing of her ADD patterns.
One of the most perplexing problems for the non-ADD partner is what John Ratey has called "the ahistorical memory" of the ADD mind.
In other words, the ADD adult (and also of course the ADD child) functions at times as if previous events, even the most recent ones, had never taken place.
Your ADD partner may have insulted you the night before but this morning greets you with a warm smile, the offer of a hug and the expectation of warm reciprocal contact.
You are in absolutely no mood, the wounds of the previous night still being fresh.
You refuse, predictably stimulating in your partner the rage-or-withdrawal response to feeling rejected. Another aspect of ahistorical memory is its either-or nature.
When, for example, a person recalls the good times in a relationship, it is almost as if nothing bad had ever happened.
Unfortunately, the reverse is also true: when one is remembering the bad,
The good may as well not have occurred.
The feeling of the moment dominates the memory.
In this regard, the ADD mind is much like a television screen: you can't have two channels on at the same time; when one has been selected, the other is inaccessible. This trait is characteristic of the all-or-nothing mind states of young children and is another marker of incomplete development in the adult.
Of course, the neurological impairments of ADD also impose some extra nuisance.
It is difficult to live with a partner who may be messy and disorganized, does not remember promises, tunes out in the middle of conversations, forgets events and anniversaries, has a short fuse and in moments of crisis may lack self-insight.
But all that adds up to only a thimbleful of trouble when compared with the turmoil brought to the relationship by the anxiety and pain stored in the implicit memory circuits of the ADD brain.
With absolute and sincere thanks, gratitude and appreciation we offer total recognition to Gabor Mate and his writing of Scattered Minds from which we have taken these pieces from Chapter 27.
Maté, Gabor. Scattered Minds (p.261 - 270). Ebury Publishing. Kindle Edition.
Further Reading for TRAUMA Information at
ARTICLES Above
According to the late
Dr. Wayne Dyer
, the original story was told by Henri J. W. Nouwen.
It goes like this…
In a Mother's womb were two babies.
One asked the other: "Do you believe in life after delivery?"
The other replied, "Why, of course. There has to be something after delivery.
Maybe we are here to prepare ourselves for what we will be later."
"Nonsense," said the first. "There is no life after delivery".
"What kind of life would that be?"
The second said, "I don't know, but there will be more light than here".
"Maybe we will walk with our legs and eat from our mouths".
"Maybe we will have other senses that we can't understand now."
The first replied, "That is absurd".
"Walking is impossible. And eating with our mouths? Ridiculous" !
"The umbilical cord supplies nutrition and everything we need".
"But the umbilical cord is so short".
"Life after delivery is to be logically excluded."
The second insisted, "Well I think there is something and maybe
It's different than it is here.
Maybe we won't need this physical cord anymore."
The first replied, "Nonsense.
And moreover, if there is life, then why has no one ever come back from there?
Delivery is the end of life, and in the after-delivery,
There is nothing but darkness and silence and oblivion.
It takes us nowhere."
"Well, I don't know," said the second,
"But certainly we will meet Mother and she will take care of us."
The first replied "Mother? You actually believe in Mother?
That's laughable.
If Mother exists then where is She now?"
The second said,
"She is all around us.
We are surrounded by her.
We are of Her.
It is in Her that we live.
Without Her, this world would not and could not exist."
Said the first: "Well I don't see Her, so it is only logical that She doesn't exist."
To which the second replied,
"Sometimes, when you're in silence and you focus and listen,
You can perceive Her presence, and you can hear Her loving voice,
Calling down from above."
?
Dr Wayne Dyer calls these two babies "Spirit" and "Ego."
Read further at
REFLEXES
VAGINA MONOLOGUE & PREDATORS.
BRAVE COUTRAGEOUS WOMEN

SPEAKING OUT

DRIVING HEALING

TO AWAKEN and EFFECT

REALISTIC CULTURAL CHANGE.

Clementine, Sir Winston Churchill's wife, was talking to a street sweeper for a while.
"What did you talk about for so long?" asked Sir Winston.


She smiled, "Many years ago he was madly in love with me."


Churchill smiled ironically,
"So you could have been the wife of a street sweeper today. "
′′Oh no, my love ", Clementine replied,
"If I had married him, he would have been the Prime Minister today.!!!

Princess Diana
Grace Tame
"HEAR ME NOW",
Watch & Listen to Grace Tame
Australian of the Year 2021.
Grace Tame speaks about the disgusting Patriarchial Law which formerly prevented sexually abused women having the right to speak for themselves in Tasmania.

Now continuing her mission determined to be effective in being heard, and understood to assist all women and all aspects of society to awaken to a more respectful, caring society,
Through conversations, support, belief and education.

AUSTRALIAN STORY REPORT
November 2021

MOVING ON TO THE NATIONAL PRESS CLUB ADDRESS
9th FEBRUARY 2022.

So the Prime Minister immediately calls for an investigation to see who was responsible for such dispicable behaviour that he condones.
Of course he would.

The Jenkin's Report came up with 28 recommendations immediately.







Brittany Higgins
From the National Press Club
9th February 2022

As we expect both Brittany and Grace Tame
really stirred up the
"SWINGING DICKS CLUB"
as former Minister for Defence
Julie Bishop named them.









All five of these featured courageous women and most women generally
Have experienced & continue to be
Treated in the most disgusting and unjust manner by

"Those who supposedly were /are the doyen and leaders of society".

Then former Deputy Prime Minister & Minister for Foreign Affairs
Julie Bishop
Confirms the existence of Canberra's Swinging Dicks Club
Which tried unsuccessfully to destroy her career.
Read more...
Reflexes exist to keep us safe.
Essentially, they represent nervous system reactions caused by physical stimulation of the B
ody's receptors.
Many other automatic functions in the body are essential, such as maintaining blood sugar levels and digesting food. We need them throughout life for survival.


In contrast, the primitive baby reflexes, usually referred to as Infant Reflexes or Primitive Reflexes are required to maintain the correct position in utero, help progress and turning during a vaginal birth and aid survival in very early childhood.


In a newborn they train the bladder and bowel to function automatically.
Provide the first breath of life and assist feeding.


The Infant reflexes are not needed in later childhood and adulthood and their persistence can hinder the child's brain development and can be a major contributor to physical, intellectual, emotional, behavioural and social problems.


In children with Developmental Delay these persisting reflexes have a wide range of effects.
Pregnancy
Fertilisation
Most Infant Reflexes are present before birth and the earliest one,
The Fear Paralysis Reflex, develops at 5 to 8 weeks of pregnancy.
Most Mothers-to-be don't even know they are pregnant at this stage.
As early as the 5th week of pregnancy,
The first infant reflex develops to protect your baby.
Throughout the pregnancy your baby continues to develop further reflexes
That will influence the position during the pregnancy,
Help the birth process and support survival,
Starting with taking the first breath.
However, in some cases, these reflexes may not emerge.
Birth
Your baby assists in the birth process with automatic pushing, turning and wriggling movements that aid progress towards the outside world.
These movements are generated by particular automatic inborn infant reflexes.
They help to position the baby and enable the birth to progress through the different stages.
As mentioned above, these reflexes are progressively integrated following a natural birth, but this process may not occur when the progress down the birth canal is missing or modified.
Baby's first year

What are Infant Reflexes
These are reflexes relating to the very early stage of human development and are unconditioned and in-born, most developing in utero.
The baby doesn't learn these reflexes. They simply develop naturally during the pregnancy.

Many infant reflexes assist in the birth process, most are protective and some are present to establish bodily functions necessary for survival.


For example, the two Spinal Infant Reflexes,
Spinal Pereze
and
Spinal Galant
,
are stimulated by touch to the back.
Root Reflex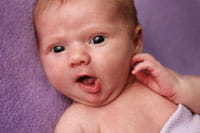 This reflex begins when the corner of the baby's mouth is stroked or touched. The baby will turn his or her head and open the mouth to follow and "root" in the direction of the stroking. This helps the baby find the breast or bottle to begin feeding.
The root reflex lasts until about 4 months of age; then it is replaced by voluntary turning of the head to the nipple.
Suck Reflex
.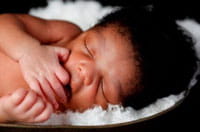 The sucking reflex, like rooting, is an automatic survival action. Rooting actually helps the baby become ready to suck. When the roof of the baby's mouth is touched, the baby will begin to suck. This reflex begins at about the 32nd week of pregnancy and is not fully developed until about 36 weeks' gestational age. Hence, premature babies may have a weak or immature ability to suck.
Babies also have a hand-to-mouth reflex that goes with rooting and sucking and may suck on fingers or hands. Sometimes the fetus can be seen sucking his or her thumb on a prenatal ultrasound.


Moro Reflex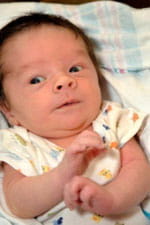 The Moro reflex is often called a startle reflex because it usually occurs when a baby is startled by a loud sound or movement. In response to the sound, the baby throws back his or her head, extends out the arms and legs, cries, then pulls the arms and legs back in toward the body. Even a baby's own cry can trigger this startle reflex. This reflex lasts until 2 months of age.
Grasp Reflex
Stroking the palm of a baby's handcauses the baby to close his or her fingers in a grasp.
It is a strong reflex & is an even firmer grip in premature babies. The grasp reflexlast 5 to 6 months.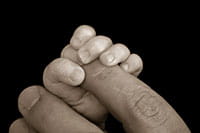 During the birth process they help the baby wriggle down the birth canal during contractions and also empty the baby's bladder to rid the body of waste.
This automatic response assists the birth and promotes normal functioning of the baby's bladder and bowel.
Having served their purpose during the natural birth and in early life, the reflexes are no longer required and they become progressively inactivated by a process of maturation leading to reflex integration.


However, if these Spinal Infant Reflexes are not stimulated during birth and subsequently inactivated, they can result in later difficulties, for example with attention, sitting still and/or bedwetting, soiling and other far-reaching problems.
Such difficulties may be related to birth by Caesarian section (in which the baby does not experience passage down the birth canal), a breech birth (which provides stimulation in reverse), or a fast last-stage or assisted birth (ventouse or forceps) that may not provide the time or stimulus for the natural processes to complete.


This is just one example of how the incomplete maturation of Infant Reflexes can affect the older child in many ways.

If this Infant Reflex Integration process is incomplete, the functioning of the brain can be affected.
The Central Nervous System (CNS) may then be unable to function efficiently in various ways, potentially influencing the whole child, physically, socially, emotionally, behaviourally and/or intellectually, depending on the nature and extent of non-integration.
Although each reflex has particular influences on physical, emotional, social and educational areas, their combination can multiply the effects.
A complex reflex profile can produce wide ranging difficulties.
Children with cerebral palsy or other difficulties involving gait (walking) may benefit from working on the integration of additional infant reflexes beyond the twelve key ones.
This is the period of time when most of the infant reflexes integrate.
This means that the reflexes become less dominant and are progressively replaced by conscious movements.
During the first year of life, babies would naturally lie flat on their tummies as well as their backs and move freely.
They need to be held, moving with the adult, developing sensory skills relating to touch, balance and proprioception, as well as emotional attachment.
They also need to move freely, lying flat for sufficient time, until they are able to sit themselves up. There are many intermediate developmental movements to learn on the way from lying to standing!
Practice and repetition of these is an important factor in developing the learning pathways in the brain.
As babies experience their environment in this way, at their own pace, they are able to make the movements that help the infant reflexes to be replaced by conscious control.
Often, this is not fully achieved and problems emerge.
This may occur, for example, through inactivity in a fixed position, such as long periods spent in inclined seats, rather than lying and moving freely on a horizontal surface.


The integration stages of several Infant Reflexes rely on the baby being held and moved in relation to gravity, lying prone (on the front) and horizontally with freedom to move. Government guidelines issued in the UK and USA regarding the sleeping position of babies have encouraged parents to sleep babies on their backs. However, it is important that babies also spend time on their fronts.
One important infant reflex is integrated by movement in this position.
Subsequent development and postural reflexes;
As the child's Infant Reflexes become integrated, postural reflexes begin to emerge.
If the Infant Reflexes do not integrate, then postural reflexes will be negatively affected.
Most postural reflexes are life-long and are necessary for controlled, co-ordinated, fluid movement in response to gravity and the maintenance of balance.
In typical development they are in place by 3-4 years, with some variation.


One example of a postural reflex is the head-righting reflex.
As the body moves one way the head is automatically held in an upright position to maintain balance.
This begins to develop as the baby lies prone at approximately 16 weeks, lifting the head, so that the face is in a vertical position.
The head righting reflex in action
Complex difficulties
Frequently the consequence from the lack of sincere loving attention.
Hence the rising recognition and incidents of Attention Defecit Children & their hyper activity.

Many children find learning difficult, or have difficulty concentrating, comprehending, making friends, being motivated or being still.
For example, one child may have problems sitting still in relation to specific reflexes.
They may also dislike labels on clothing, tight belts and have difficulties with urine control.
Another may show aggression, fear or low self esteem relating to a different reflex.
Yet another may have problems with balance and co -ordination or have difficulties with communication.
The involvement of a group of reflexes may present as a more complex difficulty with varying severity.
A child in this situation may be struggling at a low level with many aspects of life or may have been given a diagnosis such as Autistic Spectrum Disorder, ADHD, Dyslexia, Dyspraxia, language or behavioural difficulties.

All the behaviours associated with these labels arise from the way in which the brain functions oblivious to the unresolved accumulated toxic energy which the implicit life component of the individual has unwittingly had stowed away to avoid the momentary discomfort of any and all avenues of SEPARATION.
Pleased to say this article has finally led us back to the founding principle that
The workings
OF
&
Within
OUR IMPLICIT MIND
OCCUR
BEYOND
CONSCIOUS AWARENESS.

We have absolutely no memory or record of the experience
Which left us
FOREVER
WANTING.

...................
SELF
Wounded
BY
Life's Innate
DEMAND for ATTACHMENT
As a consequence of
That which

"Did not Occur".


At that Frightening
IMPLICIT
Moment
OF
INITIAL
SEPARATION
FROM
"MOTHER'S GAZE".

BELL CURVE FREE STATISTICS
MENTAL WEALTH





DIFFERENT

----------"
COMMONERS"
----------
DIFFERENT


Should we need to remind

Our Sytem's

would be

Medical Masters

Each Other & Ourselves

That
COMMONERS
DO NOT
CREATE
NOR DO THEY

DRIVE
CHANGE.

Change is the natural Universal providence of passionate commitment.

By
Different Thinkers.

Dalai Lama, Mahatma Gandhi, Nelson Mandela,
Albert Einstein, Julius Sumner Miller,
On to
Steve Jobs, Elon Musk,
Greta Thunberg, Grace Tame, Eve Ensler "V".

Of
Course other Unique Individuals too.
INCLUDE YOURSELF HERE.
As we are ONE & the SAME.




Herein lies further conclusive evidence to the reality of

Attention Defecit



ORDER



Being a 20th Century consequence of

environmental

initiated
Psychological impairment.



Advanced & unfortunately
Mis diagnosed
And previously
Misunderstood by socially indoctrinated Ignorance.


In virtually all aspects of
Obscessive Compulsive Avoidant Behaviour
Adult Obesity
Along with fellow
Avoidance Behaviours
Remains in high propencity

FOR ALL TRAUMATISED,
MISUNDERSTOOD,

PSYCHOLOGICALLY WOUNDED

ABUSED, MOLESTED, TRAUMATISED

NEGLECTED CHILDREN.
####

LIVING ACTIVE WISDOM CONTAINED IN THE EVOLUTIONARY

BRILLIANCE IN DNA

Of

LIFE

IT'S SELF

BECOMES

Instaneously Modified,

Responding Instanteously

To any

POSSIBLE

LIFE THREATENING

ENERGETICALLY IDENTIFIED SENSE

Of
DANGER

Be this by any expression, Utterance, sound or intimation

OF

POSSIBLE SEPARATION.


Well that pretty much includes all of us then in this age.

Where hurt traumatised Adults
No longer face each other,
To cope with their suppressed Intimidated Child
BUT
Through Using

Self destructive avoidant behaviour.

Engaging in behaviour in the feint hope of
AVOIDING
The all TOO familiar residual Pain,
Depressing sense of Sadness

FROM INFANT
INTERNALISED SEPARATION.



AMYDGALIA DEVELOPMENT.

Neural groove closing to neural tube, early week 4

Neural development is one of the earliest systems to begin and the last to be completed after birth.
This development generates the most complex structure within the embryo and the long time period of development means in


utero insult during pregnancy


May have consequences to development of the nervous system.

The early central nervous system begins as a simple neural plate that folds to form a groove then tube,
Open initially at each end.
Failure of these opening to close contributes a major class of neural abnormalities (neural tube defects).

Within the neural tube stem cells generate the 2 major classes of cells that make the Majority of the nervous system :
Neurons and Glia.
Both these classes of cells differentiate into many different types generated with Highly specialized functions and shapes.
This section covers the establishment of neural populations, the inductive influences of surrounding tissues and the sequential generation of neurons establishing the layered structure seen in the brain and spinal cord.


Neural development beginnings quite early, therefore also look at notes covering
Week 3- neural tube and Week 4-early nervous system.
Development of the neural crest and sensory systems (hearing/vision/smell) are only Introduced in these notes.
Read more...
COVID-19 PANDEMIC HAS AWAKENED
Eyes to SEE
Ears to HEAR
Noses to SMELL
SENSES TO TASTE & FEEL
TIME TO THINK.
ALL LIFE IS CONCEIVED
WITH
INNATE
IMPLICIT WISDOM.
NOW MORE.
LIVING
DNA.
Vs
$$$$$$$$$$$$$$$$$$$$$$
SUBJECTS OF A MATERIALISTIC SOCIETY
HAVE IDENTIFIED THE DREADFUL TOXICITY OF FINANCIAL TRAUMA
THANKS TO THE ECONOMY THREATENING
WAR OF COVID - 19
WITH ITS POLITICALLY & SOCIALLY ENFORCED LOCK DOWNS
NOW AT A TIME OF ECONOMIC RECONSTRUCTION.
As
SOCIAL
ISOLATION
RECOVERS TO
WELCOME
SOCIALISATION
$$$$
May we never return to pre Covid economic systems
To those Soul Destroying work places
Batteries ! and Coops !:
AS WE
Further progress this
LIBERATING
AGE
OF
EMOTIONAL INTELLIGENCE.
A
Socially Aware
place
of
.= NON JUDGEMENTAL EQUALITY =.
**HUMANS BEING A ORGANIC SPECIES**
MUST RETURN TO A BALANCED HEALTHY EMOTIONAL STATE
TO OPERATE.
IN STRESS FREE HEALTHY CONDITIONS
For maintenance of individual and socially collective health.
A place of
.= NON JUDGEMENTAL EQUALITY =.
That is Balance where:
Mind = SPIRIT = Body.
Spirit = LIFE
Whilst it remains in the body.
*Of each & every pure born individual*.
Similarly to Economic recovery
ENTIRE SOCIETIES
FOLLOWING MIND FLOODING
TOXIC EMOTIONAL RELEASE
(
MENTAL FLOODS OR INFERNOS
)
Move forward by consciously inviting,
Allowing body to rest and recuperate as the Organs
Within apply "Due Dilligence"
TO RECOVER.
Cleaning up and balance all internal accounts.
*BY GENTLY NURSING THE WOUNDED*

Effectively establishing an
ENERGETIC TRIAL BALANCE.
Physical = Emotional = Mental.
For a
HEALTHY RECOVERY.
Life is really a wonderful game.
So in the process of integrated recovery to health,
LIFE
Activates the filtering agents
Our
Autonomic Nervous
&
Central Venous system
Our blood to conduct a
Full Body Audit
To determine what is and what is not happening
Via
TELEPATHIC MEDIA
of
PAIN & DISCOMFORT
In
RESPONSE ABLE
Organs of the body:
WE ARE ONE.
BODY AUDIT
SPINE
CEREBOSPINAL FLUIDS

REFLEXES

NERVES
BLOOD

HEART
LUNGS
KIDNEYS
LIVER
GALL BLADDER
PANCREAS


STOMACH
DIGESTIVE SYSTEM
SMALL

INTESTINES
LARGE

INTESTINES


OVARY & GONADS
BOWEL
SKIN
& MUSCLES
Part of this knowledge has been the basic Medical Practice
For hundreds of past years & more.
Little awareness has been effectively considered to address
Wicked life erroding dis-ease
Of
RETAINED EMOTIONAL TOXICITY
UNCONSCIOUS SCARS OF TRAUMA
PURE TOXIC ENERGY
ULTIMATE CONSEQUENCE OF
INFANT BORN WISDOM
From
LIFE's
Ever vililant attention
To
Staying alive.
Here in is the underlying foundation of the
IMPLICIT MIND
*BORN IN ALL
*
INCLUSIVELY
Within OUR
Deoxyribonucleix Acid
DNA.
SIMILARLY DNA
PREVIOUSLY UNIDENTIFIED
Until the wonderful
NOW
Posthumously recognised.
Rosalind Elsie Franklin Discovered
The Double Helix of DNA.

As with this DNA identification,
NOW
BY ALLOWING SELF REGOGNITION
TO OUR IMPLICIT MIND
GRANTING SELF
Acknowledging permission
We gain access beneath
The Wisdom Of Trauma.
INDIVIDUALLY & COLLECTIVELY
We are well on our way to
SELF RECOVERY
HEALING WISDOM
OF OUR BEING
I
AM
"THAT"
I
AM.
Read more...
Born from human Genome of DNA & all the evolved developmental "attachments"
Humans have grown to consider ourselves Superior in intellect to Primates.
However we also know that many aspects of Psychological & Physiological development
Continued to be held & carried foward since time,
In & with DNA.
Of the most significant components in this evolutionary development is the innate desire and
Insatiable drive to
STAY ALIVE.
This critical innate component of survival is the soul bed of our endless need for
ATTACHMENT

Along with its collaborating sense
TO
SEPARATION.
Babies arrive
WISDOM LOADED
Brains within skulls of humans are born prematurely, small and under developed
To allow free passage through Mother's pelvic Cavity for natural birth.

LIFE LESSON 101

WE DO NOT HAVE TO BE

TO BE
"SEEN OR HEARD "
TRUE.





Babies arrive


WISDOM LOADED
FORTUNATELY
Most babies are delivered to the outer world complete.



Having assembled their entire physical body in Utero.




Born complete, healthy with fully functioning




Digestive, Respiration, Cardio Vascular, Nervous & Communication systems.



Along with the physical development with liberated & coordinated LIFE management.



Of movement from the time we discover & learn to


Lift our head, roll over, sit up, crawl, stand, walk, run, jump, skip and hop.
Born with highly sensitive emotional & Life survival visual wisdom.

During this period our brain begins experiening the cognitively developing memory,
Ma Ma Mum.......Da Da Dad.
To effectively compliment the ever present psychological
"Radar" of organic sensitivity.
Principally
Life Itself.


Life Itself.
"ALL SEEING"
During the following days onto 21 or so years the entire head & skull continue to expand

To accommodate the constantly
Expanding multi faceted physical body & organs

And associated functional management chambers of the developing brain.


Mean time Life being incredibly brilliant of itself keeps our "wits about"
With all of our Senses on alert
Life's safe existing assurance tools.
So sensitive is the tender new born
The very first experience of
IMPLICIT CELLULAR RECORDED SCARRING
May Occur Instantly
When the infant experiences the
Shock
OF DISCONNECTION AT BIRTH.

Terrifying Abandonment
Is Implicitly taken in & remembered cellularly
by
LIFE ITSELF.
Forever becoming a cellular memory to be eternally avoided.
Situations as simple as
A Nursing Mother Abruptly averting her
LIFE CONNECTING VIZUAL GAZE.
Maybe sufficient to contact or establish this IMPLICIT sensitivity.

The ever vigilant Tender New Born

Takes in
Any exposure to any sensory experienced
SHOCK.
Life being so incredibly brilliant of itself
Keeps an "Eye & Ear out" for emotional safety.


Owing to any felt sense or experience of disconnection & separation
A memory of inner sensitive avoidance of discomfort is activated as cellular memory.

Here untold pain maybe progressively accumulated.
~~~~~~~~~

Accumulated beyond conscious awareness.
Self created inner sensory Vigilance activates pre ordained separation

TO BE AVOIDED.


In readyness to avoid contact with the inborne residual discomfort.

Residual discomfort which habitually activates our unconscious avoidance drivers



Leading us to seek relational comforting connection.



Endlessly


DRIVING OUR SENSORY DESIRE FOR ATTACHMENT.





Or to temptation of Endlessly promoted & advertised




COMPULSIVE AVOIDANT


SELF DESTRUCTIVE BEHAVIOURS.

Drugs, Alcohol, Sex, Gambling, Shopping, Sport, Friends etc.
(Including Compulsive obscessive gaming media)
ALL
Dopamin activating Excitement


Any possible sense of separation from Life received by body senses
Is instantly & painfully recorded.
(Including the loss or failure of a mobile phone)
POTENTIALLY
AS LIFE THREATENING SEPARATION.

This memory is instantly burned & communicated

SOMATICALLY
Through the Poly Vagal Nervous System


Into & across the entire nervous system of the tender Infant.
Such unwelcome sensations remain active indefinitely.

To which our being establishes a Permanent State
Of Unconscious
Active Avoidant Vigilance .......
Anxiety.

All creatures know and have experienced this Life born sensation.
Readily observed in abused & neglected
LIFE SHARING
Humans, Animals & Plants.

All natural survival workings of Life's IMPLICIT Wisdom.
Whilst operating below the surface of consciousness,
In TERMITE LIKE INVASIVE MODE
Of
Moist, Silent, Darkness.

Eternally gnawing away disturbing our
Peace of Mind.


As a perpetual Dis Ease


Within the entire Psyche of man kind.



~~~~~~~~~~~~~~~~~~~~~~~~~~~~~~~~~~~~~~~~~~


PEAK RELEASE.

Explained.
Contacting pure previously unimagined
Never before experienced sensations,
Of Explicitly experienced
Overwhelming Estatic Joy.
Throughout One's entire body


Implicitly Knowing & understanding the Wisdom Beneath Trauma.
We create the safety of a Loving Presence for our clients to
Confidently find their own way
To a wholesome, healed,
Self Loving Being.
No longer

SEPARATED FROM ONE
*

*********************************************************


Supporting Personal Experience Exercises



1. More on IMPLICIT & EXPLICIT MEMORY



********


777counselling.com




Taken from
:
Science from the article suggest a partial explanation with the following:
"Getting insights into neuroplasticity during early visual learning in these highly visually guided navigators moves us a big step forwards in the understanding of how visual information is encoded and learned for spatial behaviour. What's more, it shows beautifully how the finely tuned interactions between brain, environment, and behaviour are responsible for the bootstrapping of the navigational systems of these prodigious foragers".

***********************************

THE SENSITIVITY OF HUMAN RELATIONSHIPS.
In Body Sensitive Psychotherapy
We understand there is much more to energetic radiation.
For healing therapy to be effective
Client and Counsellor need to merge this energetic radiation
Of each other to a natural harmonious state.
Interlinking the energetic circles.
We name this place
"Loving presence".
Effectively merging our sensory radiation.
What's Is Matter:
Observations from daily living with loving appreciation for life in all of
Natures' inclusive wisdom have delivered us genuine sensory awareness to an energy
Infinite radiatiation.
Assembly of energy which forms to become "matter".
It is the ability of retaining this innate sense of recognition
To all aspects of
Visible and invisible radiation
Across the universe.
Which all creatures great and small use to live by.
It's how tiny Ants find the sugar & Bees pollinate flowers.
And Homing pigeons cover hundreds of miles to their coop.
Meanwhile "White Ants" which are not ants
But are related to the Cockroach family.
White Ants are actually Termites.
Who find such clever ways to hide whilst they eat our homes.
Termites are very clever in the way they consume this food.
They have a strong aversion to sunlight and prefer humid environments
Termites will typically eat wood, for example, from the inside
Leaving the outside shell to keep them in their
Preferred darkness in a moist surround.
By their foraging underground, this desire for darkness is satiated
It also means they can travel swiftly,
Silently and undetected to their next source of food.
Comparable behaviour occurs within man kind where the
Termite is
IMPLICIT
In similar manner
Implicit mind works at high speed
Impulses travel in all directions at all times.
Hidden below and behind consciousness.
Termites and Blowflies play important roles in nature's environment
In that they recycle rotten timber and decaying flesh in the wild
Returning valuable nutrients to the soil,
But as forests and wooded areas have cleared,
Termites have found a new food source . . . our homes!
Such intuit wisdom has been retained for essential survival by humans, plants and animals Primarily to kept them alive and functional in a world overloaded with competive and suppressive conditioning by predators, the greatest being that of the ever fear filled,
"Would be" dominant species of UNCONSCIOUS MANKIND
Who continues to stagger as voracious Termites across earth's Wilderness
Devouring nature by insatiable consumption.
UNCONSCIOUS DE-VOLVING MANKIND
$$$ ENDLESSLY CONSUMES & DESTROYS $$$
It's own home environment.
$$$$$
Well that was until COVID-19 arrived to Wake Up and reset CONSCIOUSNESS
Throwing "Spanners of DEATH" into the wheels of commerce,
Releasing a world Pandemic of unresolved Mental Tension through the exposure of
Residual Emotional Trauma.
Radiation levels of previously denied Anxiety and Depression
Were exposed as people were confined Indoors
Compelled to sit with their normally avoided radiated sense of
Accumulated toxic discomfort.
Discomforts which were previously brush aside by all forms of comforting socialisation, of connection, and public assembly.
$$$ COVID-19 EVOLVED TO A DIVISIVE WAR $$$
Birds on the Wing used in war time for home bound communication after a crash
Covid forced gatherings and all forms of emotional expressions to be denied.
All possible expressions for Joy and Sorrow became caged like those war year birds
Boxed, waiting to be released for their long Journey back home
Calling for help,
Connection, comfort and shelter.
Yes all creatures great and small need the basic shelter of some home.
Back HOME to that first place of BASIC SHELTER....
Not a big house but that safe healed place as we were born,
Entire unscarred and lovingly connected and nurtured by Mother.
ENDLESSLY SEEKING A HEALED SELF.
All of us unconsciously crave gratification of the
innate need
in LIFE.
Life is our Spirit
Arriving within Conception.
Life itself, carries and brings this need
Life wants us back home with our SELF.
Life Radiates to connect itself to Life.
Self is home where we initially sensed our own RADIATION
Inherited from the cells within our endless line of DNA.
First Scarred
When we lost momentary visual connection
With our Mother's
Gaze
.
WE DO NOT HAVE TO BE
BIG
TO BE SEEN.
AWAKEN NOW
Welcome to the 7 SENSES

5 External
As
Above
1. Sight, 2. Sound, 3. Smell, 4. Touch, 5. Taste.

2 Internal

So
Below
6. SOMATIC WISDOM
7. LIFE
HOME NOW
WOUNDED HEALER
IN NURTURING
SAFETY OF SELF
WE SHARE LOVING RADIATION.
777

Home

777counselling.com
Following on along the organic them about pruning the Tree of Life to reduce old growth and encourage new fruit from
Xylem & Phloem
and the Poly Vagal Nerve we look further into US via the Veins within the leaves of Man Kind.
A

cotyledon

"seed leaf" from

Greek

: is a significant part of the

embryo

within the

seed

of a

plant

, and is defined as "the embryonic leaf in seed-bearing plants, one or more of which are the first to appear from a

germinating

seed."




The number of cotyledons present is one characteristic used by botanists to classify the

flowering plants

(angiosperms).


Species with one cotyledon are called monocotyledonous("monocots").

Plants with two embryonic leaves are termed dicotyledonous ("dicots").
In the case of dicot seedlings whose cotyledons are photosynthetic, the cotyledons are functionally similar to leaves.

However, true leaves and cotyledons are developmentally distinct.


Cotyledons are formed during embryogenesis, along with the root and shoot meristems, and are

therefore present in the seed prior to germination

.
Read more...
<<

Start

<

Prev

1

2 Next > End >>


Page 1 of 2